Victor E. Bulldog IV
The official live mascot of Fresno State, spreading smiles and Bulldog Spirit all over the Valley!
The Live Mascot Legacy
FAQ's
Victor E. Bulldog lives in a loving family home with an employee of Fresno State. He lives a balanced life, enjoying playtime with siblings when he's off the clock.
Victor E. Bulldog loves making new friends and spreading Bulldog Spirit throughout the valley. Whether he's visiting students on campus or Fresno State fans in the community, Victor E. is sure to add excitement to any occasion. On campus visits can be anything from team meetings to large scale special events. Want Victor E. to make an appearance off campus at your fundraiser or private party? You're in luck - he's quite the party animal. Please read our guidelines below to keep our mascot happy and healthy!
General Guidelines
The Fresno State Alumni Association oversees all requests for appearances. A request for an appearance does not guarantee the request will be able to be granted. Once submitted, an employee will contact you for additional information, if needed. Requests for appearances must be submitted at least two weeks prior to the date of your event.
What will qualify for an appearance?
Victor E. Bulldog makes appearances on campus and in the community that enrich the Fresno State experience and help further the University's mission. He is most likely to attend events requested by:
Campus groups - athletic partners, campus departments and offices, student organizations, etc.
Preferred partners and sponsors
Alumni Association chapters and clubs
Community organizations and businesses - for profit/private, non-profit, schools, etc.
A safe environment for Victor E. Bulldog
To help ensure everyone has the best and safest experience possible, all requests for Victor E. Bulldog must meet certain criteria. Criteria include, but are not limited to:
Alignment of the request with the brand values of Victor E. Bulldog, Fresno State, and the Fresno State Alumni Association
Appropriate weather conditions
Due to health risks, Victor E. Bulldog handlers will choose outdoor appearances with discretion. Please note that if conditions are deemed unsafe, your request may be denied.
How much does an appearance cost?
We work hard to keep on campus appearances free of charge, making Victor E. as accessible as possible to our campus community.
Fees for all other appearances start at $150 for visits lasting up to one hour. Additional fees for fuel and staff time also apply. These fees aid in covering expenses related to travel and other needs of the Live Mascot program. With questions and special requests, please contact Live Mascot Program Coordinator Caroline Nolan at (559) 278-4676 or via email at cnolan@mail.fresnostate.edu.
Together, we're helping to enrich key student experiences and spread smiles with meaningful community engagement. Those appearances at sporting events and student initiatives help to connect our community to Fresno State in a fun, interactive way. Although Victor E. is an ambassador for Fresno State, he's completely reliant on donations from fans and friends like you!
No! Victor E. Bulldog III does not receive financial support from tuition dollars. The Live Mascot Program is fully dependent on donations from fans and friends like you.
Follow my mascot mischief!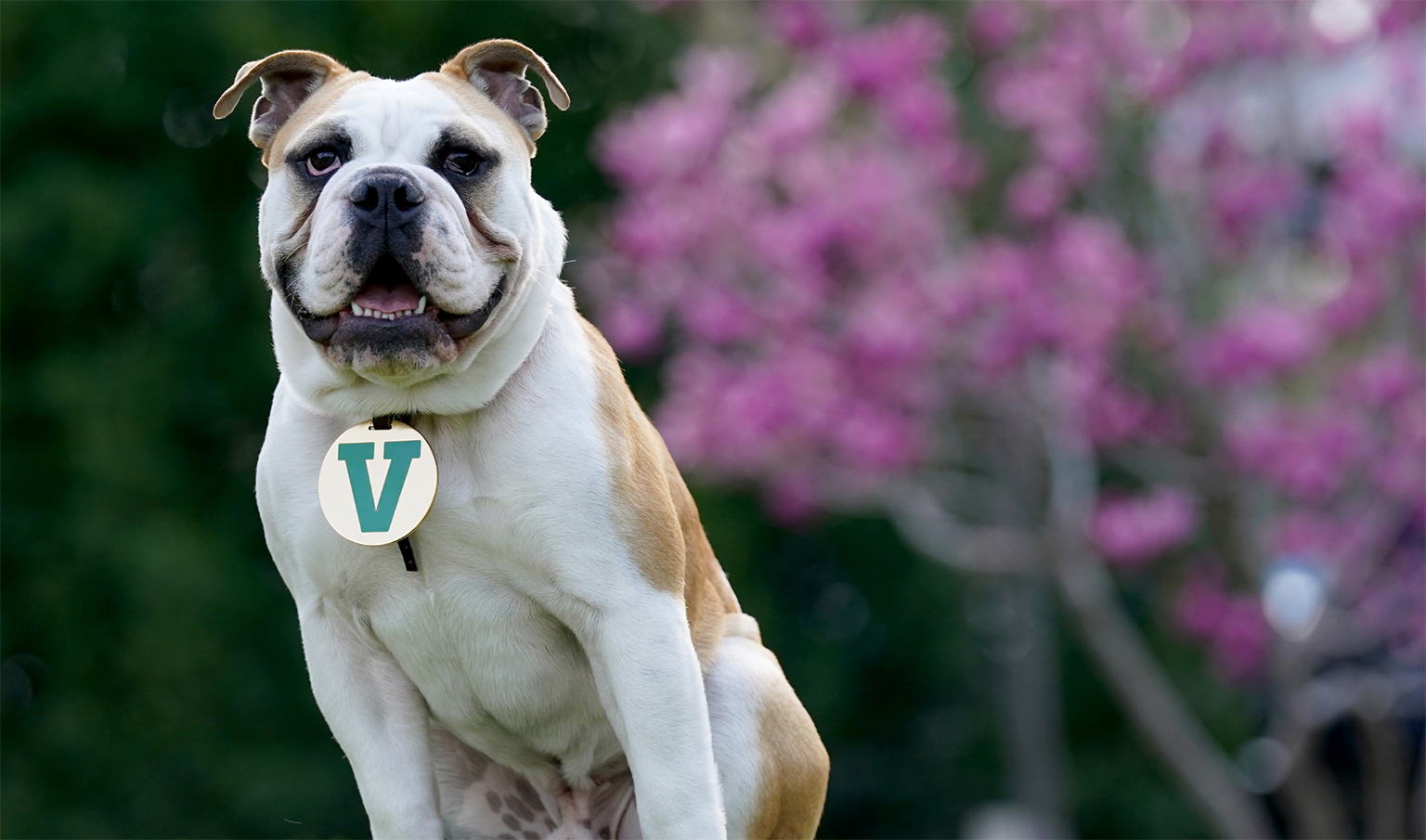 Meet Victor E.
Victor E. Bulldog loves making new friends and spreading Bulldog Spirit throughout the Valley. Whether he's visiting students on campus or Fresno State fans in the community, Victor E. is sure to add excitement to any occasion. (See terms and conditions under the FAQ)